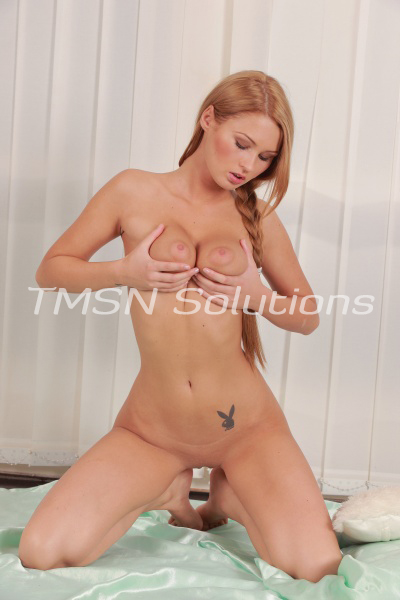 Kayla Cumsalot 1844-33-CANDY ext 357
For the last month, he hasn't allowed me to shave or trim my pubic hair. It's been really hard for me because I love the feeling of my smooth, freshly shaven pussy lips. However, I promised him I wouldn't touch it when he requested I leave it alone. Now that it's grown out a little, I kind of can't keep my fingers off it. I find myself putting my hands in my pants while I'm watching tv or scrolling on my phone, just to tease my fingers through the swatch of soft hair.
He came over today with a wicked gleam in his eyes. I knew I was in for something fun when he lifted up a spreader bar and instructed I get undressed. I got naked quickly and he placed a towel down on the bed. Positioning me on top of the towel, he then opened my eyes and secured the spreader bar between my ankles.
The Set-Up
Next, he folded up my legs until the spreader bar fit over then behind my head. Pressing it against the back of my neck left my pussy incredibly open and utterly exposed. My arms were then lifted up and my wrists got cuffed alongside my ankles.
Bound and hopeless. I could do nothing but watch him as he painted my pussy with foamy shaving cream. My whimpers didn't slow him any. He lifted up the razor and looked into my wide eyes. "Be still, little girl. I'm going to clean you up now."
More whines slipped from my throat when I felt the first swipe of the metal tool against my most tender places. He dipped the razor into a bowl of water, shook it off and started again. Long, slow, strokes upwards and over my pussy lips.
His fingers pulled and tugged my lips this way and that as he worked to remove every single pubic hair. It was turning me on to feel the way he was working my skin. I watched his fingers helplessly as he took it time. It was so sexy and yet so frustrating!
Kayla Cumsalot 1844-33-CANDY ext 357
https://sweetlovinphonesex.com
https://phonesexcandy.com/kayla/